Back to Top
The Back to Top Element is a user-friendly and easy-to-set-up tool that allows users to easily navigate to the top of a web page with just one click.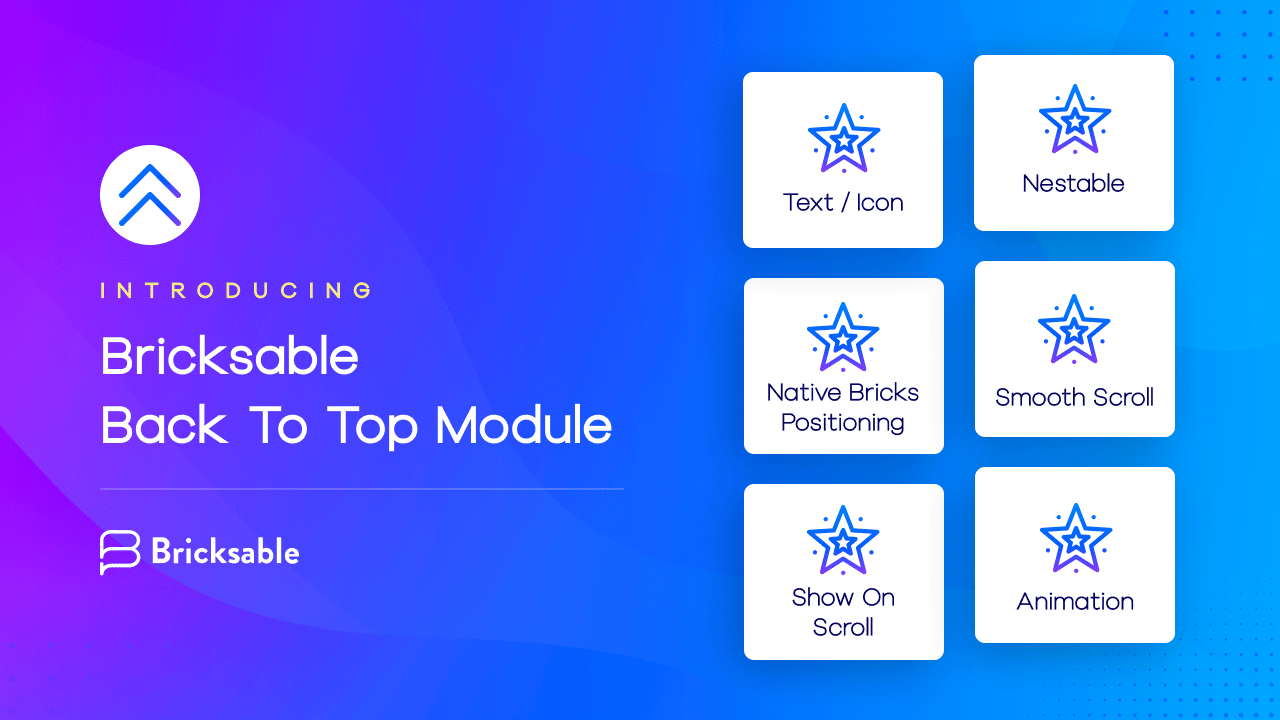 Back To Top Features
The element also includes entry and exit animations, scroll behavior, and is nestable, making it a versatile tool for enhancing website navigation.
Text / Icon
With the ability to incorporate either Text, Icon, or both, this element allows you to create a visually appealing and user-friendly Back to top button.
Nestable
With this unique capability, you can effortlessly embed any element within the Back To Top structure, enabling you to create complex and customized back to top elements that perfectly align with your website's aesthetics and requirements.
Native Bricks Positioning
Utilizing the powerful native bricks builder positioning option, allowing you to effortlessly position your back to top button anywhere on your webpage.
Smooth Scroll
With its smooth scroll behaviour, this element ensures that your page scrolls seamlessly, animating the scroll position rather than abruptly jumping to the top.
Show on Scroll
With Show On Scroll, it allows you to effortlessly define the offset value, determining precisely when the back to top element becomes visible as you scroll through your webpage.
Animation
Includes entry and exit animations that mimic the native bricks builder. This means that your website will maintain a consistent visual aesthetic, providing a seamless transition for your users. Works best with "Show on Scroll" option.
Back To Top Element
Elevate your website's Back To Top Button and leave a lasting impression on every visitor.
The plug-in packed with everything you need to build amazing websites with ease.
The plug-in packed with everything you need to build amazing websites with ease.
See Features 👉